Entre Voczes é uma revista desenhada para que os artistas-estudantes de espanhol e português na York possam apresentar as suas obras captando em palavra ou imagem o tema de cada edição. entrevoces@gmail.com
Entre Voczes YUConnect page.
Editorial Panel
Executive Panel
Editor-in-Chief: Jessica Marino
Director of Administration: Katerina Tetzloff
Director of Marketing: Vanessa Melo
Director of Communications: Jessica Kisch
Media Relations Representative: Carlos Franco
Treasurer: Katerina Tetzloff
Head Editor, Spanish: Galiatzo Flores Montoya
Head Editor, Portuguese: Galiatzo Flores Montoya
Lead Graphic Designer: Leslie Usín Rojas
Events Coordinator: Sarah Lopes
General Panel
Design Assistant: Katie Tetzloff
Editors: Sarah Lopes, Mariana Martínez
Translators: Carlos Franco, Sarah Lopes
Glendon Representatives: Mariana Martínez
Alumni Liaison: Joe Correia
Faculty Advisors
Dr. Martha Batiz
New Fall and Winter tutoring hours!
Thursday 2:30pm-4:30pm
Friday 2:30-3:30pm
Location: DLLL Lounge, Ross South 5th floor
Cancellation Policy:
If you have scheduled a session and need to cancel it, 24-hour notice must be given. Failure to do so the first time will result in a warning. If notice is not given a second time, we will not be able to schedule any future tutoring sessions.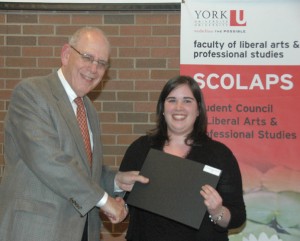 Sarah Lopes, a student in the Spanish and Portuguese & Luso-Brazilian Studies programs, won the LA&PS Outstanding Student Leadership Award. This award honours student leaders in the Faculty of Liberal Arts & Professional Studies for their exceptional contributions to an undergraduate student association in the Faculty. It recognizes outstanding achievement in enhancing the quality of the undergraduate student experience through leadership, commitment and innovation. Congratulations Sarah!